A new year has started, and all our favorite manga are getting their new anime adaptation.I got you a list of Top 15 Manga Adaptation Fans Are Getting In 2018 January.Hope you like the list.
15.25-sai no Joshikouse
GENER: Ecchi / Romance
AIRS: January 8
14.Gakuen Babysitters
GENER: Comedy / Slice of Life
AIRS: January 7
13.Ms. Koizumi Loves Ramen Noodles
GENER: Comedy / Slice of Life
AIRS: January 4
12.Gintama: Silver Soul Arc
GENER: Action / Chanbara / Comedy / Historical / Parody / Science Fiction
AIRS: January 8
11.Cardcaptor Sakura: Clear Card Arc
GENER: Adventure / Comedy / Fantasy / Romance
AIRS: January 7
10.Itou Junji: Collection
GENER: Horror / Mystery / Psychological
AIRS: January 5
09.Yuru Camp
GENER: Comedy
AIRS: January 4
08.The Disastrous Life of Saiki K. 2
GENER: Comedy / Supernatural
AIRS: January 17
07.Killing Bites
GENER: Action / Ecchi / Horror / Science Fiction
AIRS: January 13
06.Kokkoku: Moment by Moment
GENER: Drama / Mystery / Psychological / Thriller
AIRS: January 8
05.Love is Like after the Rain
GENER: Romance
AIRS: January 12
04.Skilled Teaser Takagi-san
GENER: Comedy / Romance / Slice of Life
AIRS: January 8
03.Dagashi Kashi 2
GENER: Comedy / Slice of Life
AIRS: January 12
02.Citrus
GENER: Drama / Romance / Yuri
AIRS: January 6
01.The Seven Deadly Sins: Revival of the Commandments
GENER: Action / Adventure / Fantasy
AIRS: January 13
Which one will you gonna watch first?Lemme hear you guys out in the comment section below or if you wanna get in touch with me you can connect with me on social media like Snapchat-Vibsz16 and Instagram.
——
13 New Adult Anime To Watch In 2018
List of the 13 New Adult Anime To Watch In 2018. It is often that we get such amazing request of anime.Without any further delay, let's start our list.
 **Numbers doesn't show the rank of particular anime.**
10.Hatena Illusion- 
Ever since watching a magic show held by him and his wife Maeve, Makoto Shiranui has always admired Mamoru Hoshisato—a world-class magician, as well as a friend of his parents—and came to Tokyo to become his apprentice. Kana, nicknamed Hatena, is the couple's daughter and his childhood friend. As the hustle and bustle activities in Tokyo catches Makoto off guard such as burglaries by a beautiful thief, he depends on Hatena's comforting side. When he came to Hoshisato's now-haunted mansion to reunite with his childhood friend, he is greeted by the family's butler and maid, Jeeves and Emma along with Hatena, only to discover that they are not as compatible anymore.
9.Boku No Kanojo Ga Majimesugiru Sho-Bitch na Ken 
After Shinozaki Haruka confesses to the Class Rep, Kousaka Akiho, he comes to find that the perfect class representative might be a little bit harder to handle than he previously thought!
8.Imouto Sae Ireba Ii(A sister is all you need)
This is the story about the daily life of a young siscon novelist, Itsuki Hashima with his perfect little sister Chihiro, the genius illustrator Nayuta Kani, his best friend Miyako Shirakawa and some insane partners from his publishers.
7.Skirt no Naka wa Kedamono Deshita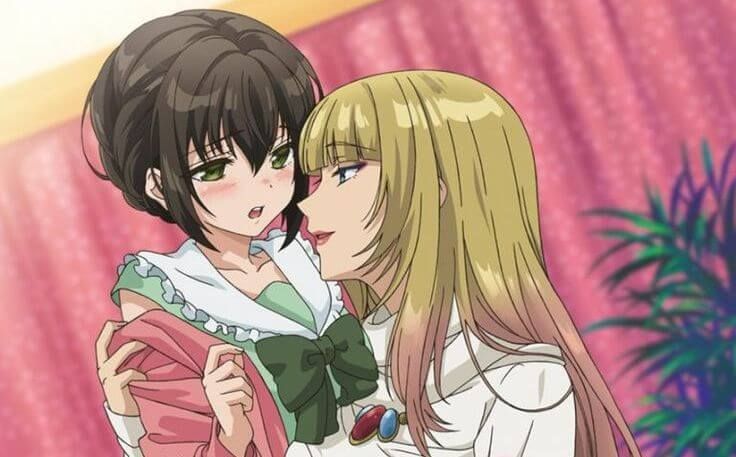 Want some real "ADULT" you start watching it right now.It's an anime which is more like Hen**a.Shizuka Kominami is a shy college student who, despite her bashful demeanor, attends a college mixer. There, she meets Ryou Kirishima, a beautiful, confident woman whom she quickly befriends. After leaving the mixer together, the two spend the night talking and drinking. But when an inebriated Shizuka ends up at Ryou's apartment, one thing leads to another, and she finds herself being seduced by her new friend. And what's more, Ryou is actually a crossdressing man!After a passion-filled night, Shizuka awakens to a note left by Ryou, promising more erotic moments between them later. How will Shizuka's newfound relationship with Ryou unfold?
6. Shirobako-
The story follows a group of five best friends, Aoi Miyamori, Ema Yasuhara, Shizuka Sakaki, Misa Tōdō, and Midori Imai, who all go into the anime industry after their experiences in the animation club of their high school, with the dream of working on an actual anime together one day.
5. Osake wa Fuufu ni Natte Kara-
Chisato Mizusawa is a reserved but excellent and pretty assistant manager in her company. She has a secret that only her husband Sora knows, which is that she likes drinking alcohol, and she can become very cute when she is drunk! Even tonight, she gets relaxed (with the phrase "Shifuku~") and drunk with the cocktail Sora makes♥. It's a "Yoidere (Drunken Dere)" cocktail comedy of Japan's closest husband and wife.
4.Saenai Heroine no Sodatekata Flat

Tomoya Aki, a male high school teenager who works part-time to fund his otaku lifestyle (anime, dating sims, and related merchandise) encounters a beautiful girl one day during spring vacation. A month later, he finds out that the girl is his classmate, Megumi, who is hardly noticeable to her classmates. Hoping to create a visual novel computer game, he turns to school beauties Eriri Spencer Sawamura for designing the art, and Utaha Kasumigaoka for writing the game scenario. Tomoya then recruits Megumi to star as the "heroine" (the main character's love interest) of his game, thus forming the development team "Blessing Software", in which the three most renowned students in the school (Tomoya, Eriri, and Utaha) work on one of the least noticeable (Megumi). The series follows their adventures in developing the game and their plans to sell it at the Comiket convention, as well as the emotional entanglements among the team.
3….