2017 was a great year for movie lovers. 2018 will be even bigger with so many famous franchises coming back this year. Franchises like that of Avengers: Infinity War, Deadpool 2, Incredibles 2 etc coming back, will surely make this year memorable. Fans will be bewildered to decide what to watch and what not to. With so many options coming, here are the 31 Must-See Movies of 2018.
Top 31 Must-See Movies of 2018
Black Panther:
Release Date-16th February 2018.
Genre-Superhero, Fantasy, Action Film.
This is a masterpiece from Marvel, and the movie is based on the story based on the character of Black Panther from Marvel Comics.The film centers around T'Challa, who is the king of Wakanda but soon an enemy challenges his reign.This mess ends up in a conflict between the forces which had some serious consequences.Ryan Coogler is the director of the film, and it marks the 18th spot in Marvel Cinematic Universe.
Ready Player One:
Release Date-29th March 2018
Genre-Science-Fiction, Adventure Film.
This is a science fiction movie directed by one of the best film directors out there, Steven Speilberg.It's 2045, and the world is in rubbles. People are using virtual reality program, OASIS to do their daily jobs and interact and play with each other.This is just a measure to escape the gloominess of the world.Wade Watts finds some intriguing clues which lead to a game well hidden deep in the program.The game offers its winner full possession of OASIS. He and his allies are in a race to complete the game before the players working for Nolan Sorrento, a psycho businessman.
Annihilation:
Release Date-23rd February 2018.
Genre-Psychological-Horror Movie.
The story follows a scientist and his group who undertakes a dangerous journey to a mysterious place which is full of odd creatures.
Red Sparrow:
Release Date-March 2, 2018.
Genre- Spy-Thriller Movie.
The story follows Dominika Egorova who is recruited by a secret intelligence organization, The Sparrow just after Dominika's mother losing her career due to an injury.The organization is infamous for training young people to use their mind and body effectively as a deadly weapon.After emerging as the most dangerous Sparrow from the training, she is to meet a CIA agent to find the real identity of a mole.
A Quiet Place:
Release Date-6th April 2018.
Genre- Horror.
This film based on post-apocalyptic events, and it is directed by John Krasinski. The story revolves around a family who has to survive in the world full of creatures who'll hunt you down if they hear any sound from you.A desperate attempt to stay alive in utter silence is what makes this film a must-see.
Solo: A Star Wars Story:
Release Date-25th May 2018.
Genre- Space, Action, Adventure.
We can't make our list complete without adding the super popular franchise, The Star Wars. This film will cover the adventures of Han Solo with his co-pilot Chewbacca within a dangerous world of the criminal underworld and also his fated meeting with Lando Calrissian, a gambler.
Rampage:
Release Date-April 13, 2018
Genre- Science-Fiction, Monster Film.
Dwayne Johnson is one of the most popular Hollywood stars, and he never fails to pump out hit movies at a consistent rate.His next big project is Rampage, a story which follows Dwayne Johnson rescuing a gorilla, George when he was still a baby. Suddenly scientific experiments fell from the sky and took the animals into its grip.The consequences are genetic editing resulting in huge growth in animals in both size and strength. With the animals including George, a 34 wolf, and a giant crocodile rampaging in the city, Can Dwayne save the residents of the city?
Jurassic World: Fallen Kingdom:
Release Date-April 13, 2018.
Genre-Science-Fiction, Monster Film.
Jurassic World is back, and it marks the second movie in the Jurassic World Trilogy.Directed by J.A Bayona, this will be released on 22nd June 2018.The story revolves around Chris Pratt and Claire Dearing, whose mission is to protect the remaining dinosaurs from extinction due to an impending volcanic eruption in the island of Isla Nublar.Pratt is after Blue which he trained and raised up but, they soon find that the Dinosaurs could take over humanity.
Incredibles 2:
Release Date-15th June 2018
Genre-Animation, Superhero Film.
This is the second installment of the Incredibles franchise, and it will begin from where it left in the first part.Incredibles 2 will revolve around the Parr family who has superpowers, and they use it to fight against the evil.The second installment will also feature their newborn child and his superpowers.
The Nun:
Release Date-September 7, 2018
Genre-Supernatural, Horror.
Remember Valak from Conjuring 2? Well, guess what, she's back to turn your life into a living nightmare.The Nun is the fifth installment in The Conjuring series and is a spinoff of Conjuring 2.
Mission Impossible Fallout:
Release Date-July 27, 2018
Genre- Action, Spy-Thriller.
Tom Cruise is back as Ethan Hunt with his thrilling franchise.Mission Impossible Fallout will be focusing on the consequences that could happen when an IMF mission goes horribly wrong.Soon, Ethan Hunt is held under suspicion by the CIA agents and is being hunted down.Can Ethan Hunt complete his original briefing and save the world from a wide scale catastrophe?
Ant-Man and The Wasp:
Release Date-July 6, 2018
Genre-Superhero, Action Film.
Ant-Man and The Wasp is a sequel to the 2015's Ant-Man and the 12th installment in MCU.Scott Lang is busy reshaping his home life and fulfill his responsibilities as a father after the events of the Civil War.Soon, Hank Pym assigns him to a mission to find out the truth related to the incidents from their past and bring them to light.However, Ant-Man is not alone this time as he would be teaming up with someone to cover his back, van Dyne as the Wasp.
Alita Battle Angel:
Release Date-December 21, 2018
Genre-Cyberpunk, Action Film.
The film is based on the plot of Yukito Kishiro's original manga, Battle Angel Alita.The movie centers around Alita, a cyborg who was found in a scrap area after which she was reconfigured into a functional being, and her adventures as a half human being in this evil world when she is soon persuaded by enemies.
The Predator:
Release Date-September 14, 2018.
Genre-Sci-fi, Action, Horror Film.
The movie will center around the Suburban neighborhood.When a group of military personnel was denied from the government after coming into contact with a predator ship, they decided to take care of the hunter all by themselves.In their team, they will be having scientists and a language intellectual young autistic boy.
First Man:
Release Date-October 12, 2018.
Genre-Biographical-Space Film.
The film is base on the book, "First Man: The Life of Neil A. Armstrong." The role of Neil Armstrong will be played by Ryan Gosling.The story will focus on Neil Armstrong and the true events of the Apollo 11's mission which marked the first human to land on the Moon.
Venom: [Recommended – Must-See Movies of 2018]
Release Date-October 5, 2018
Genre-Fantasy, Superhero, Action Film.
Venom is a spinoff from the Spiderman franchise where the character was first shown to the audience in the third installment of the series.Tom Hardy plays the role of Venom, an alien symbiote which grants Eddie Brock(Tom Hardy) unbelievable supernatural powers.
The Happytime Murders:
Release Date-August 17, 2018
Genre-Puppet, Comedy, Thriller Film.
The story revolves around the puppets living along with the humans.The disgraced ex-cop Phil Phillips is in pursuit of his brother's killer who is now targeting 1980s The Happytime Gang's cast members.Can Phil and his partner prevent this from happening?
Widows:
Release Date-November 16, 2018.
Genre-Heist, Thriller Film
The story revolves around four widows who decide to finish their late husband's job before getting killed, a heist.
Isle of Dogs:
Release Date-March 23, 2018
Genre-Animated-Comedy Film.
Due to an outbreak of dog flu virus in the city of Megasaki, mayor Kobayashi issues orders to banish all dogs from the city to a trash island.Atari Kobayashi sneaks into to island to find his dog, Spots which was the first dog to be banished.Now its a race against time where all the dogs on the island help the 12-year boy to find his best friend.A must-see movie for dog lovers.
Ocean's 8:
Release Date-June 8, 2018
Genre-Heist, Comedy Film.
This is a story of Danny Ocean's, Debbie, who has her eyes set to pull off the biggest heist of the century at the annual Met Gala in New York.Before this, she needs to form a crew perfect for the task.
Halloween: [HOT – Must-See Movies of 2018]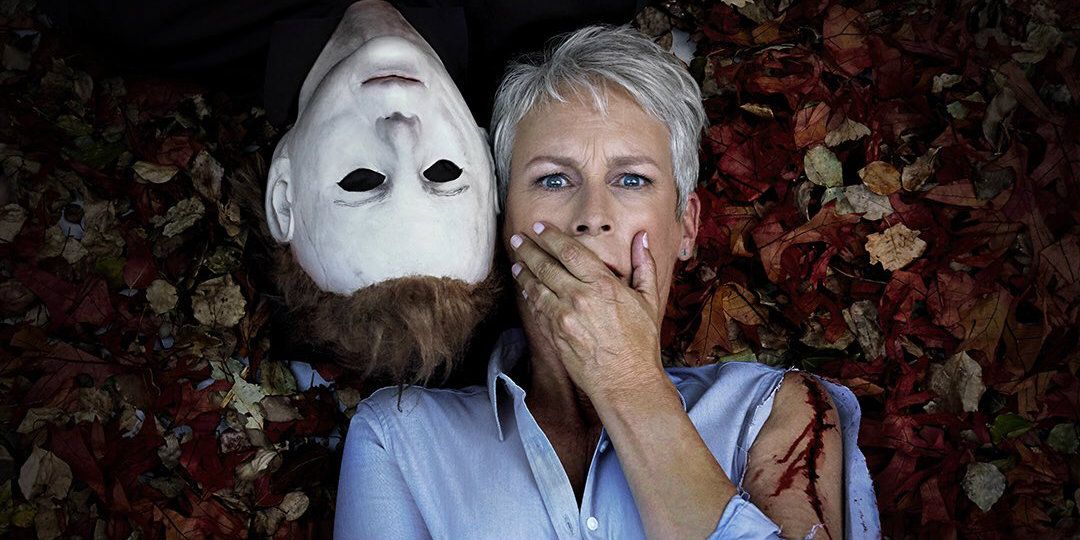 Release Date-October 19, 2018
Genre-Slasher Film.
This takes place 40 years after the original Halloween.Laura Strode finally comes into a confrontation with the masked man, Michael Myers, who almost involved her in his killing spree 40 years ago.
A Star is Born:
Release Date-October 5, 2018.
Genre-Musical-Romance, Drama Film.
This is the third version of the original film, 'A Star is Born,' from 1937.The cast includes Sam Elliott, Andrew Dice Clay, Dave Chappelle, Lady Gaga and Bradley Cooper.
Fantastic Beasts: The Crimes of Grindelwald:
Release Date-16 November 2018.
Genre- Fantasy, Drama Film.
Gellert Grindelwald, the powerful dark wizard has managed to escape the custody, and he is looking to form a group of pure-blood wizards to gain his supremacy over all non-magical things.
In a divided magical community, Albus Dumbledore and his former student, Newt Scamander agrees to do whatever it takes to ruin Gellert's plans.
Mary Poppins Returns:
Release Date-December 25, 2018.
Genre-Musical, Fantasy Film.
The movie is set in the depression era of London. Jane and Michael Banks are now grown-ups.Michael lives with three children and a housekeeper.Mary Poppins soon visits Michael and his family after Michael incurs a loss to help her get their old happy lives back with her magic.
Hold the Dark:
Release Date-TBA
Genre-Thiller Film.
A serious tension clouds over when three child dies due to a suspected wolf attack.A six-year-old boy also goes missing, and his parents hire Russell Core to locate his son's whereabouts in Alaska.
A Vigilante:
Release Date-10th March 2018.
Genre-Crime.
This film is about a vigilante who helps other to escape their domestic abusers.
Holmes and Watson:
Release Date-December 21, 2018
Genre-Action-Mystery, Comedy Film.
This a humorous comedic take on the more serious Sir Arthur Conan Doyle's Adventures of Sherlock Holmes and Doctor Watson.
Bohemian Rhapsody:
Release Date-November 2, 2018.
Genre-Biographical, Drama Film.
This film focuses on the story of the beginnings of Freddie Mercury and his band until the Live Aid of 1985.
Aquaman:
Release Date-December 21, 2018.
Genre-Superhero, Fantasy film.
After the events of Justice League, Arthur Curry comes to know that he is the heir to the underworld kingdom of Atlantis.He finds himself is a situation where the people of the underworld are planning to invade the surface dwellers.
Deadpool 2:
Release Date-May 18, 2018.
Genre-Superhero Film.
Ryan Reynolds is back as Wade Wilson with more Deadpool action.This is a sequel to the Deadpool in 2016.This time, Wade manages to gather a group of mutants known as the X-Force. Their main objective is to protect a young mutant from Cable, a time-traveling adversary.
Avengers: Infinity War:
Release Date-27 April 2018
Genre-Superhero, Fantasy, Action Film.
Thanos finally makes his entry, and he is looking for all the infinity stones to put an end to our Universe for good.The Avengers and their allies are in a race against time, and they need to sacrifice everything to prevent Thanos from accomplishing his goals.
Hope you enjoyed our list of Top 31 Must-See Movies of 2018. We will keep you updated on where to watch these movies online and where to download these movies legally.