It is a sad day in the Dragon Ball Super Community as we lose yet another member of what made this community so great! The Dragon Ball Super fandom has reason to mourn the loss of one of its own. According thew news reports from Japan, Tsuru Hiromi passed away today in Japan. She was voicing her character in Dragon Ball series for over 31 years, she was 57 when she passed away.
Japanese websites like Otokamu.jp provided stills taken from Japanese news reports covering dragon ball super community's super star's death. At the moment many people are making rumors that she was passed away in a car accident but no that's not true, at the very moment the news reports indicates that Tsuru Hiromi passed away in her car.
After being found unconscious in her car. The actress was rushed to the hospital but they declared her dead when brought in for treatment. There was no sign on any attack or any other accident, so officials are investigating to confirm whether the death was from natural causes.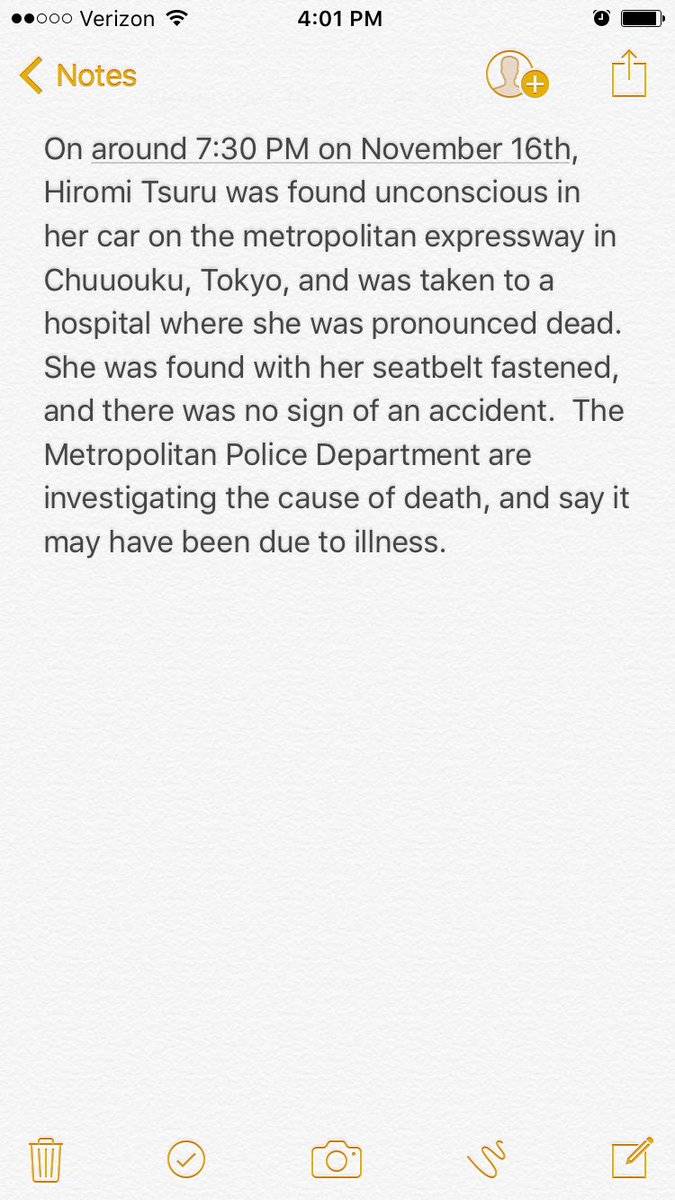 Tsuru Hiromi was born in November 1960 in Japan and she's voicing various anime characters from 1970s, the actress did voice acting in many famous anime such as, Ranma 1/2, Miyuki, Trigun, Dragon Ball Super and The Strory or Perrine.
Hiromi Tsuru was voicing Bulma for 31 years in the dragon ball series, from the very beginning in 1986 with Dragon Ball where she also played Piccolo Jr. Hiromi Tsuru stayed with Bulma throughout Dragon Ball, Dragon Ball Z and Dragon Ball Super which is currently in production. Over the years, Tsuru added other roles to his resume like Baby Trunks and Bra(bulla).
She last voiced in Dragon Ball Super Episode 96, we don't know if there are any more episodes pre-recorded with her voice that are still yet to air. Toei Animation has yet to release a comment about the actress' death, as soon as they do, we will keep you updated at OtakuKart
Rest In Peace Hiromi Tsuru, we will miss you.
——
Who Created Kid Buu? Kid Buu's Real Identity – Explained
This Article is Written by Jeremy Carden. I have been puzzled by this question ever since I watched Battle of Gods, and read an article about an interview with Akira Toriyama regarding Majin Buu's origins.
When asked about Buu's origins, Akira said this:
"Though in the manga Kaiōshin said that Bibidi made him, the truth is that one called "Buu" was not actually created by Bididi, but has existed since time immemorial. He cycled between rampages and long hibernation. During numerous iterations of this cycle, he absorbed the evil elements of mankind, becoming steadily more violent. Bibidi merely knew the means of calling Buu from out of his long slumber. Since the current Buu is a slightly different life-form due to the changes brought about when the evil Buu was expelled, it's not known whether he'll still go into long hibernation."
I was surprised by this information because it adds an entirely new dimension on how Buu came to be the Majin that fans know best.
Now, it is time to get down to the theory itself on how Kid Buu might be connected to Whis.
Originally, I thought that Whis was the God of Creation because Beerus was the God of Destruction.
However, this was not the case because Akira actually stated that it was the Supreme Kais who were responsible for the creation of planets, and Beerus was the being responsible for the destruction of planets and star systems.
King Kai told Goku that both forms of life are needed in the universe in order to maintain balance.
Alright, so it has been established that the Supreme Kais and Beerus are more or less responsible for different roles in the universe to balance things out, and Whis is pretty much the supreme being above all else in Universe 7 (the universe that we know of from DBZ).
What does this have to do with Kid Buu?
Based on Akira's origins for the character, Buu seemed to have come out of nothingness. You might compare Buu to the Big Bang Theory, and how the universe came from an incredible explosion that seemed to have come from nowhere. However, something had to have triggered that big bang, and I am thinking that the same could have been true about Buu's existence.

My theory is that Whis created Kid Buu BEFORE the role (or job) of "God of Destruction" was a position that existed in Universe 7.
Buu does not have a date in which he came into existence, and it was mentioned that he has existed since time immemorial. This means that Buu is so old that it is almost generally accepted (or hinted at by Akira) that Buu has existed since the dawn of time.
Let's say that Whis created Buu, but where did the Kais come from?
Akira said this when asked about how one becomes a Supreme Kai (supposedly the highest status in the universe):
"No one can. Kaiōshin are born as Kaiōshin. There are three of them, and they work in shifts. Though there are two of them on duty now, if one of the Kaiōshin were to die in an accident, then the currently-inactive Kaiōshin would grow in the Kaiōshin Realm like a plant. If there aren't any accidents, then it's said their life spans are about 75,000 years."
Considering the life of a Supreme Kai is around 75,000 years, it could mean that Buu was pretty much close to being an immortal because there was only 1 of him.
However, it also makes sense that there would be multiple overseers of the universe because of different quadrants. That is where East, North, West and South Kai come into play.
Think of it like this:
The Supreme Kais are the Gods of Creation and oversee both the living and other world. The lower Kais (King Kai and his 3 counterparts) guard and oversee the living world.
Does it seem fair that there is only one being on destruction (Buu), but there are multiple Kais who have the ability to make worlds?
Something tells me that 1 creature of destruction was enough, and the Kais probably were not making planets just for the sake of making them. I am sure that Whis might have had some word in how much could be created, or felt that Buu was more than enough to keep the planet total in check.
Anyway, I think the most interesting part of Akira's description of Buu was the concept of Buu not being the evil maniac that we saw in DBZ.
He describes Buu as cycling between rampages and long hibernation. During numerous iterations of this cycle, he absorbed the evil elements of mankind, becoming steadily more violent.
This sounds very similar to the origins of the Original Nameless Namek! Remember that he arrived on earth due to the storms on Namek that were on the verge of destroying the entire planet. However, the storms ended after the Namek was sent to earth. He waited years and years for his people to follow him, but they never came. During his time on earth, he watched the evilness of mankind and slowly began to adapt those traits in his personality.
From there, the Namek eventually had to surrender the evilness in his heart (that was "born" through his interactions and visuals of mankind) in order to become Guardian of the Earth.
That was how Kami became the good-hearted overseer of Earth, and the pure evil King Piccolo came into existence.
Again, this goes back to Buu's origins! He was a being that seemed to be created for nothing more than destruction that resulted from his rampages.
Similar to the Nameless Namek, it seems that during his rampages, Buu picked up characteristics from mankind (apparently the worst traits); sadistic, murderous, insane and other negative aspects of the living.
Not to mention that like the Namek, Buu eventually split into a good and an evil half.
I will touch on this more when we eventually get to Buu coming into contact with the wizard Bibidi.
It appears that Buu was a being that helped to keep the balance between creation and destruction in check. This sounds very similar to the role of "God of Destruction." After those long rampages, he would go into his ball for a long duration of hibernation.