The central event in episode 115 was Goku's battle with Kefla; we saw Kefla unlock a new Super Saiyan power-up to defeat Goku's SSB form with a Kaio-ken boost. However, at the end of the episode, Goku once again tapped into the mysterious Ultra Instinct power to match SSJ Kefla.


Dragon Ball Super, fans are impatiently waiting for Dragon Ball Super Episode 116. As episode 116 is titled Symptoms (Omen) Return! Grand Eruption of Ultra Instinct. Dragon Ball Super episode 115 was mainly focused on Goku and Kefla.


As Kefla was about to eliminate Goku, a miracle once again happened and the Universe 7 Saiyan got his silver eyes with the comeback of the Ultra Instinct.

Goku unleashes immense ki. In his fight with Kefla, he has once more reached Ultra Instinct. In answer to that, Kefla powers up as well, His body automatically dodges Kefla's attacks, which triggers her to launch an even destructive attack. Then after avoiding her attack, Goku fires a Kamehameha at point-blank range!


That tremendous display of power from both fighters got the attention of Jiren, who has been meditating in the Arena for a bit, building up his energy for his next set of battles in the tournament.


As episode 116 it just says Kefla powers up, not that she beats Goku or even fights him evenly. Only that she powers up, Powering up doesn't like matching in power.
Dragon Ball Super Episode 116 leaked images
Now according to episode 117 Spoilers, it's said Goku runs out of strength, it has no mention of him losing against Kefla. We don't understand much about Ultra Instincts, and Goku still isn't too managed to it so it could simply be taxing on his body. And Kelfa isn't noticed at all in the spoiler. Indicating she was probably eliminated.
——
Dragon Ball Super Legendary Voice Actor Found Dead In Car
It is a sad day in the Dragon Ball Super Community as we lose yet another member of what made this community so great! The Dragon Ball Super fandom has reason to mourn the loss of one of its own. According thew news reports from Japan, Tsuru Hiromi passed away today in Japan. She was voicing her character in Dragon Ball series for over 31 years, she was 57 when she passed away.
Japanese websites like Otokamu.jp provided stills taken from Japanese news reports covering dragon ball super community's super star's death. At the moment many people are making rumors that she was passed away in a car accident but no that's not true, at the very moment the news reports indicates that Tsuru Hiromi passed away in her car.
After being found unconscious in her car. The actress was rushed to the hospital but they declared her dead when brought in for treatment. There was no sign on any attack or any other accident, so officials are investigating to confirm whether the death was from natural causes.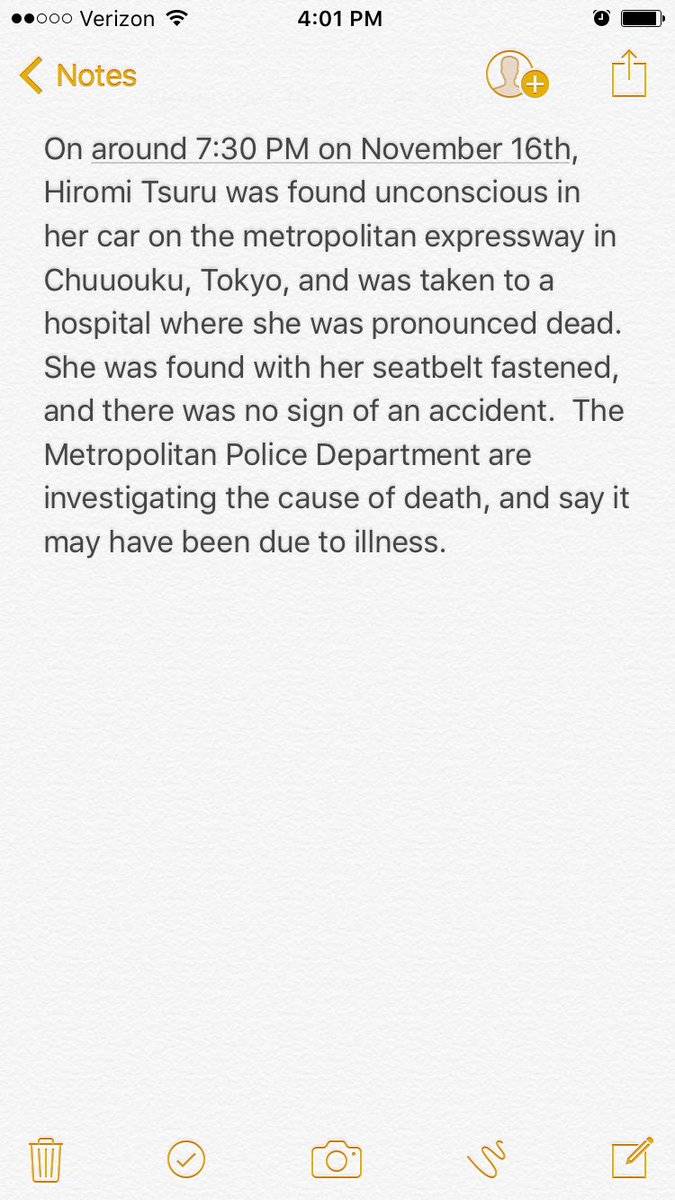 Tsuru Hiromi was born in November 1960 in Japan and she's voicing various anime characters from 1970s, the actress did voice acting in many famous anime such as, Ranma 1/2, Miyuki, Trigun, Dragon Ball Super and The Strory or Perrine.
Hiromi Tsuru was voicing Bulma for 31 years in the dragon ball series, from the very beginning in 1986 with Dragon Ball where she also played Piccolo Jr.