Arguably the most well-known Pokémon in the universe, Pikachu is the iconic mascot that made the Japanese pocket monster franchise world famous. Ever since its introduction in 1996, the 25thPokémon on the Pokédex has gained fans worldwide and has become a part of pop culture in a major way, not to mention how it helped launched video games, trading cards, anime series, movies, and put Nintendo back on the map after a shaky few years.
Now, two decades later, Pikachu is more popular than ever before with the debut of Pokemon Go. As fans old and new race around the world trying to catch their favorite Pokémon, all of the Pokémon featured in the game will no doubt be competing with Pikachu for control of Pokémon trainers' hearts.
But whether you think you know Pikachu or you're just getting started with the little yellow electricity rat, we've compiled a list so you can become the foremost Pikachu expert in the world. So put down Pokémon Go for a minute and find out 15 Things You Didn't Know About Pikachu.
15.PIKACHU WASN'T MEANT TO BE POKEMON MASCOT:
Ask anyone to tell you the first thing that comes to their mind when they think about Pokémon and they will undoubtedly say "Pikachu." There's no single Pokémon more internationally famous than Pikachu, and even those who have never held a Pokémon card played a Pokémon game or seen an episode of Pokémon in their life will have some familiarity with Pikachu. It's undeniable that Pikachu is an undeniable success story of the Pokémon franchise, but it wasn't always going to be that way.
Originally – when the Pokémon franchise was still in the planning stages – Clefairy was chosen by executives to be the lead character for the marketing of the franchise. It was thought that Clefairy would be engaging and would draw people in, but once the animated series began production it was quickly understood that a yellow central character would be the best for the brand. The thinking went that yellow was easy for children to see from a distance, and there would be little competition as Winnie the Pooh was the only yellow mascot at the time.
14. PIKACHU CAN BE USED AS A STARTER IN POKEMON GO:
Although in the original Pokémon games only Bulbasaur, Charmander, and Squirtle could be used as starters, in the new smash hit Pokémon Go there is a way to beat the system and get Pikachu from the get go. It speaks volumes for Pikachu's legacy and popularity that so many people were unaccepting of their original starter options that they discovered this cheat, and from there it spread online like wildfire and became of the most exciting discoveries of the game.
To get Pikachu as your starter in Pokémon Go all that is required of you is repeatedly running away from the options presented to you at the beginning of the game. Once you have neglected your three starting options long enough – a total of four times to be precise – Pikachu will spawn in front of you and from there he's yours for the taking, and you're ready to go off on your Pokémon adventure as the envy of the entire Pokémon training world.
13.ASH'S PIKACHU WAS NAMED JEAN-LUC IN THE MANGA: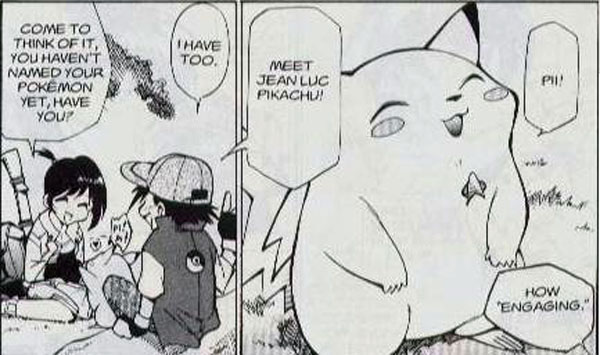 Pokemon is a worldwide phenomenon that originated in Japan, but that doesn't mean it doesn't have its Western influences. Just the idea of a small yellow rat that can store and dispense lightning is a crazy one, and it's something that somehow caught on and made us all feel more cultured for understanding. When making the jump from Japan to everywhere else, Pikachu's name wasn't changed to Greg the Rat or anything ridiculous like that, it was just left the way it was and we all understood it; Pikachu was Pikachu. But was he really?
As it turns out, when Pikachu was first introduced his name was actually Jean Luc Pikachu. First mentioned by Ash but then quickly abandoned in any other iteration of the Pokémon franchise, Jean Luc Pikachu appeases fans that thought the ultra-Japanese Pokémon needed to be more French, or perhaps they're setting up a STAR TREK, but it really appeases no one else. It's a confusing bit of Pokémon trivia that is never given much thought, but it's one that we should all bring up on occasion just to keep things interesting.
More…