So Pokémon Go has now been awarded an award for being the best game at the BBC Radio 1 Teen Awards, and who better to receive the award other than a giant Pikachu.
It really shouldnt come to you as a surprise as the game has been downloaded millions of time and has taken the world by storm since Niantic released the app in July.
And yes the app is slowly losing players by the day, but there ares still a ridiculous amount of active players daily.
Remember, Pokemon Go has broken numerous records since its release al around the world, and is continuing to be a huge talking point.
So it was a fair assumption that Pokemon Go was going to take home the award, with many people not surprised as Pikachu took control of the stage as he received the award for best game, which was decided by BBC Radio 1 listeners casting their votes over a number of categories.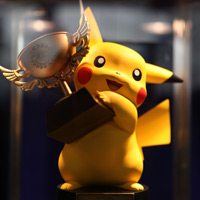 The award ceremony took place at The SSE Arena on the 23rd of October, with Pikachu clearly stealing the limelight from singers such as Shawn Mendes, 5 Seconds of Summer, The Vamps and Adele, who also took home award on the night.
I have placed a link to the video of Pikachu receiving the award below.
https://www.facebook.com/bbcradio1/videos/10154567386891763/