Since Pokémon Go's release a couple of months ago the app has made over $200,000,000 in revenue worldwide and has been downloaded an estimated 75 millions times. Because of this it is no surprise many businesses around the world have tried to turn Niantic's success into their own success.
With millions of users daily hunting for Pokémon, businesses like The Pancake Parlour, Doughnut Time and The East Brunswick Hotel have tried to attract a number of these players to their own products.
What Pancake Parlour did as well as a number of restaurants/Cafes was starting to drop lours regularly near their business. Pancake Parlour in Doncaster did this nightly every 30 minutes, which as you can expect, increased the number of customers coming into the store as well as Pokemon.
After this success they decided to take it one step further and began hosting the #Pokémon battle, where trainers took photos of themselves playing Pokémon in the restaurant and then posting it on Instagram.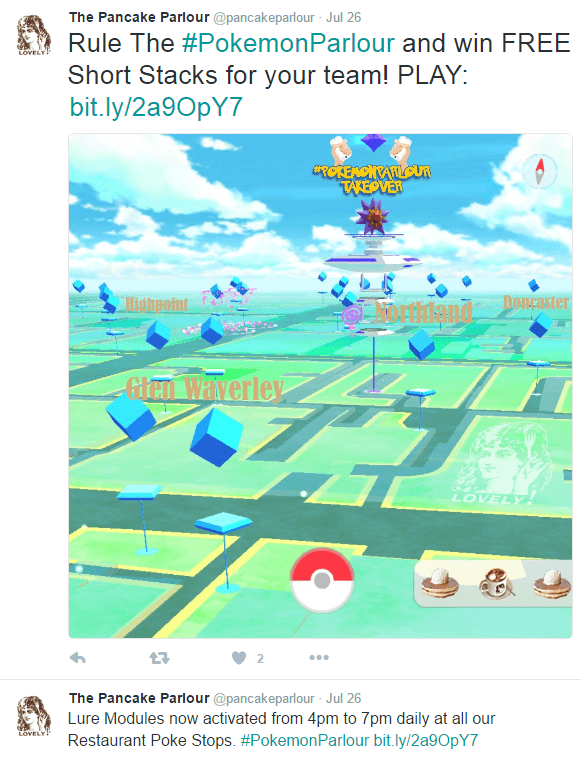 What was the point of this? Well let me tell you. The winner was determined on whichever team, Mystic, Valour or Instinct; posted the most photos. The team which won would then have access to a free short stack for every day they came in, for the next week.
Also don't worry you haven't missed out they are still doing this in some stores around Melbourne, until the end of October anyway.
However, it hasn't been only lour dropping or competitions that businesses have been using to lour Pokémon and trainers, but also novelty food.
Places such as the Sir John Young Hotel and Doughnut Time have made either burgers shaped as Pokémon, or poke ball Nutella doughnuts.
Both are only a few examples of what businesses have done to lour customers who have been taken in by the craze.
Unfortunately after talking to some of these businesses and with the decline in players over the past moth, some businesses are no longer using Pokémon to lour customers in and are stopping their Pokémon specials.
However don't worry with updates such as trading, legendary Pokémon and hopefully battling between friends coming soon, I assume the decline will stop as heaps of current and past players are eagerly waiting for these updates.
For more information on other places around Melbourne who took Pokemon Go in check out my video below.